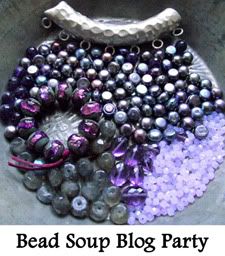 It's time for the Bead Soup Blog Party to get going! I got my partner, and I'm pretty excited about it!
I looooove what I have been seeing of Elizabeth's work on her
blog
and
Facebook page
, and I know whatever she sends me is going to be a lot of fun to work with. I have already been at the torch making a set of beads for her.
Soon, she and I will be posting our bead soups and working on our creations. You'll just have to hang on til September 17th to see what we make with each other's soups!